Permanent Magnet Generators for Wind Turbines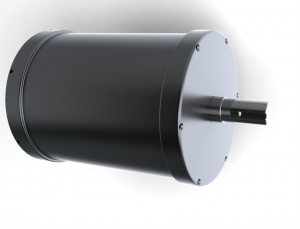 Permanent magnet generators provide the ideal solution to the wind industry. By matching the power and speed of the generator to that of the wind turbine, the power system becomes more efficient. No gearboxes are needed. The efficiency of the alternator exceeds 90%. PMGL serves as a partner for OEM wind turbine manufacturers, developers and operators. We work to provide the best solution for our partners' requirements. This may fit in with one of our existing and standardized generators or may require a custom built unit. Our mutual objective is to provide the right solution at the right cost. Our success is intrinsically tied to the success of our partners and that is our approach from the beginning. The PMGL team has delivered many generators to the industry and is working on many different projects, at all speeds (from standard speed to direct drive). With its technology and wind expertise, PMGL is offering solutions which can fit all the needs of its customers – from the most standard onshore wind turbine to the most innovative offshore wind turbine. View our popular permanent magnet generators
Advantages:
– Low cost per watt of output
– Highly efficient
– Possibility of any power output
– Extremely sturdy construction
Customers of PMG for Wind Turbines
Our customers have been using our permanent magnet generators for wind turbines for many years. Many of our high production run designs come out of the requirements from this end user group. Through experimentations our permanent magnet generators have consistently proven to be the most powerful and cost effective solution in the market. The low rpm performance stands out above any alternatives in the industry. We design to meet our customers' requirements. Our wind permanent magnet generators have been designed for either single phase or three phase configuration.
Advantages of Low RPM Wind Permanent Magnet Generators

Traditional generators require 1800 revolutions per minute to generate power. How can low rpm generators help you in this case? What are the other advantages of Low RPM generators in terms of life, efficiency and reliability? Know this and more by clicking here. 
How Do Wind Permanent Magnet Generators Work?

With electricity bills, more and more people are looking for an alternative sources of energy, permanent magnet generator fulfills the needs perfectly. What makes permanent magnet generators a superior alternative to induction motors? How durable are these generators and how can they achieve highest efficiency? Know this and more by clicking here.
Wind Permanent Magnet Generators: Price vs RPM

Wind permanent magnet generators are operated at different speeds. But price becomes a compensation factor when varying the speed of the alternator. Price of an alternator is inversely proportional to the speed. Decreasing speed will result in increasing the size of the alternator. Know this and more by clicking here.
Wind Permanent Magnet Generators: Voltage vs RPM

Voltage generated is directly proportional to the speed of the prime mover. Increasing RPM and increasing the load will have effect on voltage in a wind permanent magnet generator. Hence a relation between these factors is essential for manufacturers. Know this and more by clicking here.
Wind Power – A Rising Sector

Wind energy has the capability to become the preferred source of energy. It is clean and wind is in abundance, hence unlimited supply of free energy can be generated.  Wind farms and modern technology is fast developing machinery to enhance this energy. Wind permanent magnet generators are used to generate electricity. Know this and more by clicking here.
Germany – Leading Wind Power Nation

Germany installed 29,075 Megawatts of wind capacity in 2011 which was highest in Europe. Government intervention and development of policies to establish more number of wind permanent magnet generators manufacturers have helped this nation to develop wind power. Know this and more by clicking here.
Gearboxes as way to Direct Driven Turbines & Wind Permanent Magnet Generators 

Direct driven turbines are proving to be more reliable and efficient. These reduce the cost of productivity. They have been around for quite some time now but their huge size and cost was a problem. But modern technology has developed newer, lighter and affordable models which are used in wind permanent magnet generators. Know this and more by clicking here.
Wind Mill Designing With Wind Permanent Magnet Generators

Factors like height of the wind mill, speed of the wind, power, material used etc play crucial role in developing a wind  mill installation. Wind permanent magnet generators are affected by all these factors. Hence it is important to know how these factors behave. Know this and more by clicking here.
Materials for Wind Permanent Magnet Generators

The material used to design a permanent magnet generator is very important. The properties of the components decide the nature of the generator. The winding wires, type of magnets used, their grades etc are critical to make an efficient generator. Know this and more by clicking here.
PMGL's Efficiency Tests

PM Generators Ltd. regularly performs efficiency tests to remain competent in the industry. The results obtained show that PMGL manufactures alternators which have the best efficiency in the market. Know this and more by clicking here.
Small Wind Industry moves towards higher kilowatts

Demand for higher kilowatts is on a rise in small wind industry. Producing more electricity than required help consumers to store the excess for future use or even sell it back. Know this and more by clicking here.
Grid Tie Inverters

Grid tie inverters are special inverters that convert DC to AC and also have the capability to feed the AC back to the grids. During over production the excess electricity produced is fed back to the existing grids. This new technology is beneficial for both the electricity boards and the consumers. Know this and more by clicking here.
Wind Turbines for high speed winds

Newer technologies are on a rise that try to harness high speeds of the wind. Problem of wind being erratic in nature and strength of wind mills is being taken care of since power per square meter is the cube of wind velocity. Hence a lot of potential lies in the wind speed. Know this and more by clicking here.
New Investor in Wind Energy: Pension Funds

Since many nations have pledged to make renewable energy a major portion of their energy source, new wind projects are lined up in many nations. But there is a huge need of funds for these projects. Hence pension funds are fast becoming a potential investor since they have low threshold for capital return. Know this and more by clicking here.